Rely On Your Local Bergen Professional Plumber For All Your Plumbing Needs 24/7
If you live in Bergen County and have plumbing problems at home or at your place of business, our plumbers are available 24/7 to make sure they're permanently resolved. All Week Plumbing is a local, family owned plumbing company committed to provide the best quality service to Bergen County and all North Jersey residents.
For over 3 decades All Week Plumbing has been the go to plumbing service for residential and commercial in the state of New Jersey, including Bergen and neighboring counties. We take pride in our expertise, honesty, the dedication and the love we have for our trade our state and our customers.
We're The Top Plumbing Service Contractors In Bergen County NJ! We Provide Repairs, Installations, Inspection & More For Residential & Commercial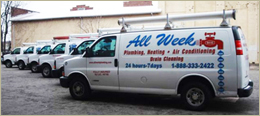 Our plumbers and technicians are highly qualified to support some of the most complicated plumbing systems from the oldest to the most modern of them, whether it's residential or commercial. We can support pretty much all sorts of plumbing work; kitchen, bathroom plumbing repairs and installations, toilet repairs, piping, water heaters, drain and sewers and much more.
Our employees are instructed to observe best manners and behavior and to respond to all your relevant needs during their presence at your premises. Our main goal remains our clients satisfaction at all times, and our reputation is a proof of that.
Recommended Resources
Bergen County Official Website
More info about Bergen County
Plumbing Services in Other Counties