Rely On Your Local Bergen Professional Plumber For All Your Plumbing Needs 24/7
Our plumbers are available 24/7 to ensure that any plumbing issues you may be experiencing at your home or place of business in Bergen County are fixed permanently. Local, family-run All Week Plumbing is dedicated to giving residents of Bergen County and all of North Jersey the highest caliber service possible.
In the state of New Jersey, including Bergen and surrounding counties, All Week Plumbing has been the go-to plumbing service for both residential and business customers for more than three decades. We are proud of our knowledge, honesty, commitment, and love for our customers.
We're The Top Plumbing Service Contractors In Bergen County NJ! We Provide Repairs, Installations, Inspection & More For Residential & Commercial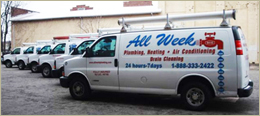 From the oldest to the latest plumbing systems, whether residential or commercial, our plumbers and technicians are well-equipped and trained to maintain them. We can support any type of plumbing work, including toilet repairs, piping, water heaters, drain and sewer maintenance, and much more.
When on your property, our staff is under strict instructions to act appropriately, follow proper etiquette, and attend to any pertinent issues you may have. Our reputation serves as evidence that our primary objective is always the satisfaction of our customers.
Recommended Resources
Bergen County Official Website
More info about Bergen County
Plumbing Services in Other Counties