Rely On Your Local Union Professional Plumber For All Your Plumbing Needs 24/7
If you reside in Union County, NJ, and require plumbing services, look no further than All Week Plumbing. Our team of experts is always ready to assist you with any plumbing needs, whether it's installation, repair, or maintenance. We understand the importance of having a reliable plumbing system, particularly during the hot summer months, which is why we offer a comprehensive range of services to ensure your home's comfort and safety.
As a local, family-owned business, we are committed to providing excellent customer service and ensuring that every customer is satisfied with our work. Our years of experience have taught us that preventative maintenance is critical to extending the life of your plumbing system, which is why we offer annual maintenance plans to keep your system in top condition throughout the year.
We're The Top Plumbing Service Contractors In Union County NJ! We Provide Repairs, Installations, Inspection & More For Residential & Commercial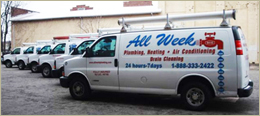 If you need emergency plumbing repair, All Week Plumbing is available 24/7. Our phone line is always open, so you can call us anytime, day or night, and we'll be there to help you. We take pride in being a reliable and efficient emergency plumbing service provider, and we have the necessary tools and experience to tackle any plumbing issue quickly and efficiently.
If you need any type of plumbing service or repair, give us a call today. Our team of experts will assess your needs and provide you with the best possible solutions to meet your plumbing requirements. All Week Plumbing is your go-to plumbing service provider in Union County, NJ, so why wait? Contact us today and experience our top-notch service firsthand
Union County Serviced Locations
Recommended Resources
Union County Official Website
More info about Union County
Plumbing services in Other Counties