Rely On Your Local Union Professional Plumber For All Your Plumbing Needs 24/7
Do you require new plumbing or are you need to check if your current system can withstand another scorching summer? In any case, residents in Union County, NJ, always contact All Week Plumbing for all of their plumbing requirements. We are local, family-owned, and dedicated to providing good proper customer service. We have years of experience therefore, give us a call if you need to get any sort of plumbing repair or service. We provide a 24-hour phone line, enabling you to get in touch with us at any time. We are only a quick phone call away if you require emergency plumbing repair.
We're The Top Plumbing Service Contractors In Union County NJ! We Provide Repairs, Installations, Inspection & More For Residential & Commercial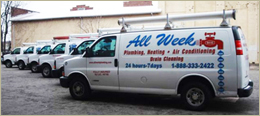 Is a little TLC needed for your plumbing? With years of experience in the plumbing industry, All Week Plumbing can perform repairs on any brand or style of plumbing. We are only a phone call away if you require plumbing service or repair. We even provide emergency repair, and our phone line is open around-the-clock so you may get in touch with us whenever you need.
You never know when you'll require assistance so, All Week Plumbing provides emergency plumbing repair for this reason. Since you can't control when an emergency arises, we provide a 24-hour phone line to make sure that we can assist you at all times. If you need our help at any time, day or night, all it takes is a quick phone call. To learn more about all of our plumbing services in the Wallington, NJ area, give us a call right away.
Union County Serviced Locations
Recommended Resources
Union County Official Website
More info about Union County
Plumbing services in Other Counties