Rely On Your Local Union Professional Plumber For All Your Plumbing Needs 24/7
Do you need a new Plumbings, or do you just want to make sure your current one is up to another hot summer? Either way, Union County NJ locals know to call All Week Plumbing for all of their plumbing needs. We have years of experience, we're local and family owned, and we're committed to old-fashioned customer service. So when you need to talk to someone about plumbing, give us a call. All Week Plumbing is local to New Jersey and is committed to old-fashioned customer service. To us, that means we're here to help, no matter when you need assistance. That's why we offer a 24-hour phone line, so you can reach us any hour of any day. If you need emergency plumbing repair, we're just one quick phone call away.
We're The Top Plumbing Service Contractors In Union County NJ! We Provide Repairs, Installations, Inspection & More For Residential & Commercial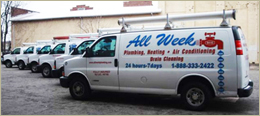 Is your plumbing need a little TLC? All Week Plumbing has been in the plumbing game for years, and knows how to handle any brand or type of plumbing when the time comes for repairs. If you need plumbing service or repair, we're just a phone call away. We even offer emergency repair, and we have a 24-hour phone line so you can reach us no matter what.
You can't predict when you'll need help. That's why All Week Plumbing offers emergency plumbing repair. We know that you can't choose the timing of your emergency, so we ensure that we can help you no matter what by offering a 24-hour phone line. Day or night, if you need our assistance, we're just one phone call away. Call today to learn more about all of our plumbing services in the Wallington, NJ area.
Union County Serviced Locations
Recommended Resources
Union County Official Website
More info about Union County
Plumbing services in Other Counties