Sump Pumps Repairs NJ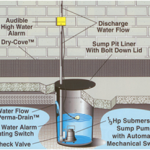 If something goes wrong with your sump pumps then your basement will get flooded and flooding will cause a lot of problems which can be avoided by routinely servicing and repairing of your sump pumps. A small leak of water in the basement during the rainy season will lead to the growth of mold and fungus which is unhealthy and can even affect the structure of the building. Call us for professional help for sump & ejector pumps repair, replacement install services. Our Plumbing Repair, Replacement & Installation servicesare the best in the industry hence you can rely on us blindly.
To avoid expensive repairs all you have to do is call for a professional help and get your sump pump repaired and maintained regularly. If you want to get the best services and advice for sump & ejector pumps repair, replacement and install procedure then you can count on us as we are experts in the field and have a team of professional plumbers specialized in the work.
Sump Pumps Service NJ
Ignoring regular maintenance of the sewage ejector pump that helps to remove sewage will create a great mess. To avoid the mess all you have to do is sign up an annual contract with us by doing so you are not only going to save on repair charges but also will be able to ensure a problem free sewage ejector pump and healthy living.
We repair, replace and install all types of sump and ejector pumps, some are listed below:
Battery activated sump pumps
Submersible sump pumps
Sump pumps for basement
Sewage ejector pumps
Our clean and friendly technicians will arrive at the scheduled time and will carry out the Sump & Ejector Pumps Repair, Replacement or Installation procedure flawlessly. Our services are fast and we provide affordable pricing. If you want a technician to inspect your sump pumps and ejector pumps for free then contact us now! You can rely on us for any Plumbing Repair, Replacement & Installation work 24 hours a day and 7 days a week.
All Week also provides Water Heater Repair, Replacement & Installation