Rely On Your Local Hudson Professional Plumber For All Your Plumbing Needs 24/7
If you're looking for plumbing services in Passaic County, NJ, All Week Plumbing is the local, family-run business that you can count on. We offer comprehensive plumbing installation, service, and repair, including emergency plumbing repair, available 24/7 through our phone line.
Our skilled technicians are equipped to handle a variety of plumbing issues, from clogged sinks and faucets to drain and sewer cleaning and repair, tree root removal, and more. We can also provide maintenance services to ensure that your plumbing system is in top condition year-round, including preventative maintenance inspections, hydro-scrub services, and video inspections.
We're The Top Plumbing Service Contractors In Hudson County NJ! We Provide Repairs, Installations, Inspection & More For Residential & Commercial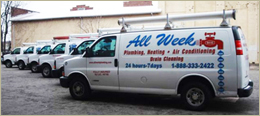 At All Week Plumbing, our top priority is your comfort and satisfaction. That's why we're dedicated to providing prompt and reliable service whenever you need it, whether it's in the middle of the night or on a hot summer day. Our experts are well-versed in working with all major brands and types of plumbing systems, and we're committed to fixing your plumbing issue as quickly and efficiently as possible.
So if you're experiencing any plumbing problems in Passaic County, give us a call at All Week Plumbing. Our technicians will provide you with all of your options, whether it's a new installation, repair, or plumbing service. Trust us to keep your plumbing running smoothly and your home comfortable all year long.
Hudson County Serviced Locations
Recommended Resources
Hudson County Official Website
More info about Hudson County
Plumbing Services in Other Counties