Rely On Your Local Essex Professional Plumber For All Your Plumbing Needs 24/7
Every home in Essex County, New Jersey needs 24-hour plumbing, especially in the sweltering summertime. For this reason, All Week Plumbing provides a range of services, including plumbing installation and plumbing repair, helping residents around the area remain comfortable regardless of the weather. Simply pick up the phone and call All Week if you have any questions concerning plumbing for prompt, competent assistance.
We are only a phone call away if your plumbing unit breaks down or if you require emergency plumbing repair. You can call All Week Plumbing at any time because our phone line is open 24/7. We are only a phone call away and there to assist even at short notice.
We're The Top Plumbing Service Contractors In Essex County NJ! We Provide Repairs, Installations, Inspection & More For Residential & Commercial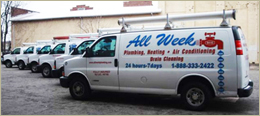 Don't forget to have your plumbing serviced before the summer arrives. As experts in plumbing service and repair, All Week Plumbing provides a variety of choices, including annual maintenance plans to make sure your cooling system is prepared for the months to come.
All Week Plumbing provides emergency plumbing repair in the Belleville region because it is impossible to foresee when a plumbing emergency will arise. You can call us at any time, day or night, thanks to our 24-hour phone line; we're always willing to assist. We are happy to be family-owned and local, and we have been providing AC repair and servicing for many years. Call All Week if you need assistance with your plumbing, and find out why so many locals rely on us for their cooling system needs.
Recommended Resources
Essex County Official Website
More info about Essex County
Plumbing Services in Other Counties