The Preferred Local Plumbing Company In Northern NJ
For more than 25 years in New Jersey, All Week Plumbing has offered the best in residential and commercial plumbing services . Licensed, certified and insured, we specialize in plumbing repairs, installations, emergency service, fixtures and much more. We take pride in our trade , our honesty and willingness to assist our customers and neighbors when they need us.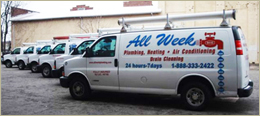 All Week Plumbing is a family-owned business offering fast, friendly and courteous service. We have built our reputation on our commitment to provide quality service, which has earned us many valuable customers. We aim to ensure the complete satisfaction of every customer, while offering knowledgeable and friendly service at affordable rates.
Our staff has over 100 years combined experience in the field. Knowledgeable, properly equipped, available around the clock and always willing to assist when needed, they are the best at what they do, and that's how we're able to offer the best to you.
A wide variety of plumbing services for residential & commercial available in North NJ
Our professional plumbing services and solutions are reliable and divers, they include but not limited to the following:
Sinks & Faucets installations and repairs
Clogged Drain Cleaning & Repair
Bathtubs & Showers installations and repairs
Toilets installations and repairs
Septic Tanks & Sewer Lines service
Frozen pipes repairs
Water Heaters installations, repairs and replacements
Drain Video Inspection
Sewer Drain Jetting service
Preventative Maintenance Inspection
We Service :
North NJ – Central NJ