Rely On Your Local Passaic Professional Plumber For All Your Plumbing Needs 24/7
When it comes to air conditioning and plumbing services in Morris County, New Jersey, there is no better company to call than All Week Plumbing. Our customers trust us for our full inventory of services, exceptional customer care, and emergency installation and repair services.
We understand the importance of having a functioning air conditioning unit during the hot summer months, which is why we offer immediate installation services. Our team is available seven days a week, including holidays, to handle any plumbing repairs, installations, or emergency services you may require. Whether you need emergency plumbing services or simply want a technician to examine your home's comfort control system, we are here to help.
We're The Top Plumbing Service Contractors In Passaic County NJ! We Provide Repairs, Installations, Inspection & More For Residential & Commercial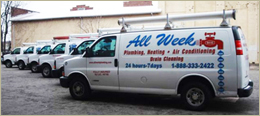 At All Week Plumbing, we take pride in being the top plumbing service contractors in Morris County. Our team of professionals has years of experience working with all major brands, and we are equipped to handle all of your plumbing needs, including repairs, maintenance, and the installation of new or replacement units. You can trust us to get the job done correctly and efficiently.
If your air conditioner is making odd noises or has stopped functioning altogether, it's time to call for plumbing repair services. All Week Plumbing is the only company you need to contact in Saddle Brook for plumbing repairs and services. Don't wait until the problem gets worse; contact us today for immediate assistance
Recommended Resources
Passaic County Official Website
More info about Passaic County
Plumbing Services in Other Counties