Rely On Your Local Passaic Professional Plumber For All Your Plumbing Needs 24/7
If it has to do with plumbing in Passaic County NJ, call All Week Plumbing . We're a family-owned business, and we're proud to be local. When it comes to Plumbing, we do it all, including plumbing installation, plumbing service, and plumbing repair. We even offer a 24-hour phone line so you can reach us no matter the hour or the day. Our only concern is your comfort, so give All Week a call.
One of the most important services All Week Plumbing offers is emergency plumbing repair. We know that when you need help, it can be any time or any day. That's why we offer a 24-hour phone line. If you need plumbing service or plumbing repair, you need a company with extensive experience providing in-depth service to residents in the area – that company is All Week Plumbing.
We're The Top Plumbing Service Contractors In Passaic County NJ! We Provide Repairs, Installations, Inspection & More For Residential & Commercial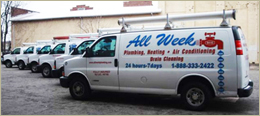 Regular maintenance on your plumbing is important. If you're in Passaic County NJ, the company to call for plumbing service and repair is All Week Plumbing . From routine maintenance services before the start of summer each year to preventive repairs when a heat wave is in full effect, we can handle your plumbing needs. When summer's on its way, be sure to have your plumbing looked at, and be sure to call All Week Plumbing.
One thing about emergencies, they're usually not convenient. That's why All Week Plumbing  has a 24-hour phone line, and we're always ready to help. If it's the middle of the night and your plumbing is clogged you don't want to wait call All Week Plumbing. We're local and we're ready to help you, so call today and learn why so any West Paterson, NJ residents trust us with their plumbing needs.
Recommended Resources
Passaic County Official Website
More info about Passaic County
Plumbing Services in Other Counties