Buy a Noritz 9.8 GPM 50 Gal Water Heater From All Week And Get It Installed At Best Rates Anywhere In New Jersey Today!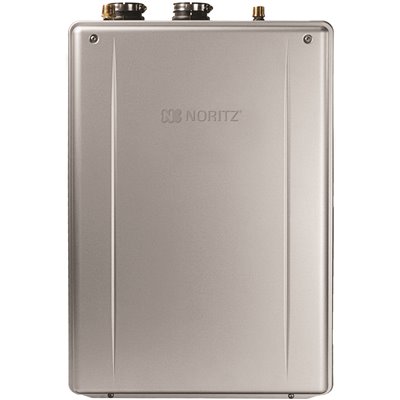 A major advantage for contractors wanting to streamline their water heater tank to a tankless replacement we offer services with the availability of thee EZ model as a bundle package for indoor installation with each combo inclusive of the heater itself, a single vent conversion kit, flex vent conversion kit (25ft of 2 in. flex), isolation valve kit plus an installation guide. It comes as all in one solution for direct tank replacement.
The main features of the new EZ series include:
Built in non-return valve
Top grade stainless steel heat exchangers
Low BTU mode and a venting length of 65ft
Uniform energy factor of 0.97
Noritz is proud to offer a 25-year heat exchanger warranty.
The new EZ98-DV with its components are in the EZTR50 package for replacement of a 50 gal tank water heater.
The Noritz EZ bundle allows for easy tankless installation. Install your EZ98DV-NG in minutes with an all in one package.
New EZ models equipped with 2 heat upgraded heat exchangers that are developed with lasting high grade stainless steel.
Revolutionary tankless water heater features a super-low BTU mode with its burner control allowing for optimal temperature response in low temperature or low flow rates. Thus reducing BTU output to less than 5000 BTU
New EZ models conveniently feature a maximum venting length of 65 ft. or 150 ft., when using a 2 in. or 3 in. vent diameter, respectively
Higher efficiency: NORITZ's latest EZ units have an industry-leading 0.97 uniform energy factor
Unmatched performance with the industry's best warranty – 25 year heat exchanger warranty
Top hot and cold water connections allow for an easy tank-less for tank replacement
ENERGY STAR rated natural gas tankless water heater
NORITZ connect app is compatible with EZ units, allowing for wireless remote control of heater functions and diagnostic/maintenance reminders NWC-adapter is sold separately, (internet # 304740446)
Maximize your hot water usage by connecting 2 EZ units, the QC-2 quick connect cord can double hot water output (sold separately)
EZ98 features a capacity range of 0.5 GPM – 9.8 GPM
Unit is capable of providing up to 9.8 GPM at a 30° temperature rise
Bundle kit is intended for indoor installation, to install outdoors, it is recommended to purchase the tank-less unit and vent cap.
This bundle kit is intended for INDOOR INSTALLATION. To install outdoors, it is recommended to purchase the tank-less unit and vent cap, both of which are also sold separately
Noritz 9.8 GPM 50 Gal Sales, Installation, Repair, Maintenance and Replacement Service NJ
All Week HVAC and NORITZ systems have been partners for a long time, this gives All Week the right to handle all NORITZ products in New Jersey. Over the past year, we have been recommending and installing different types of systems that include boilers and new units for residential properties within New Jersey.
We leave our clients satisfied, and in turn they give us positive reviews on the recommendations we offer. That and more is why we are the most reliable and trusted partners of NORITZ systems.
Our staff are well trained to work on all NORITZ systems, we make sure that they undergo specific training on all models and compatible equipment. It is important for us that our staff to stay up to date with the latest trends for new and existing equipment in the industry. This is why our customers are satisfied, in turn improving the trust they have for us.
Our store has numerousNORITZ equipment available at all times, whether it is the new units, boilers, coil pieces, or the split units and many more.
Recommended Resources