Buy a Noritz 50 Gal Water Heater From All Week And Get It Installed At Best Rates Anywhere In New Jersey Today!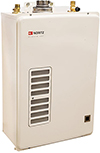 Manufactured by Noritz America for the North American residential market, EZ series are a high efficiency, tankless water heaters are specially designed to reduce cost of installation and time during replacement of existing larger storage tank-type units. The new Energy Star-rated EZ98-DV and EZ111-DV (Energy Factor: 0.97) join the formerly released EZTR40 in offering homeowners and installers a diverse range of tank-less options and covering the majority of tank replacement options for residential buildings.
For contractors desirous of streamlining tank-less for tank replacement jobs is the availability of EZ model in bundle package for indoor installation for residences with each bundle containing a heater, single vent conversion kit, flex vent conversion kit (25 feet of 2-inch flex), an isolation valve kit, and a installation guide.
Three bundles available are as follows:
The EZTR40 package is programmed for fast and direct indoor replacement of 40-gallon tank water heaters. You can find out more about the EZTR40 here.
The EZTR50 package contains the new EZ98-DV, plus all the aforementioned components, for replacement of a 50-gallon tank water heater.
The Easiest To Install Tankless Water Heaters
Top Mounted Connections
In the new EZ models, their hot and cold water connections are located on top of the unit. This makes it easy for water lines used by the previous tank heater to be quickly and easily reconnected to the new unit.
Premix Burner
Optimizes the perfect air/fuel ratio based on demand for better efficiency with less moving parts.
Wifi Capable
The Noritz models has an app which is compatible with both of the new units. Allows for wireless remote control of -heater functions, as well as diagnostic and maintenance reminders.
Dual Stainless Steel Heat Exchanger
There are two stainless steel heat exchangers in each EZ. They both have a greater resistance to corrosion and scale build-up increasing durability.
Noritz 50 Gal Sales, Installation, Repair, Maintenance and Replacement Service NJ
For decades, All Week HVAC and Noritz have been partners with good working relationships. They are authorized to install, service and maintain all their products in New Jersey. Over the years, All Week Heating has recommended and installed various types of Burnham systems that include boilers and new units for residential properties within New Jersey.
Our clients have over the years been giving positive feedback about the recommendations we give. We remain the most reliable and trusted partners of Noritz systems.
TAll our staff are well trained to carry work on Noritz systems as they are trained on handling of all models and compatible equipment. We make it compulsory for our staff to stay abreast with new and existing equipment in the industry, this is the secret behind our satisfied customers.
At all times, we ensure our store is stocked with different types of Noritz equipment at all times, whether it is the new units, boilers, coil pieces, or the split units and many more.
Recommended Resources