Buy a Noritz 10.1 GPM Water Heater From All Week And Get It Installed At Best Rates Anywhere In New Jersey Today!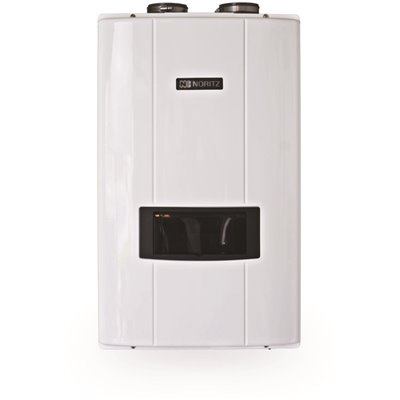 One of the latest technologies in tankless water heaters can be found in the Noritz NRCP heater series which features cross-over functionality – allowing for external circulation without return line, and an internal pump which can be used in two different modes. The external mode used with a return line, keeps water in pipes warm resulting in lower wait times for hot water. While the internal mode which works without a return line, keep water within the unit warm in order to reduce the delay between demand for water and startup sequence. The unit comes with a heavy duty 304 stainless steel exchanger for optimal heat transfer including excellence resistance to scale formation. NRCPs can be vented using 2-schedule-40 PVC pipe and operate with as little as 3.5 in. water column on the incoming gas line.
Features:
Built-in recirculation pump to provide heated water plus a return line of conversion to on-demand recirculation using IHK-NRCP kit.
Compatible with crossover valve (#cCS-V) kit for external recirculation without the use of a return line. Note that this item is sold separately.
Includes remote thermostat which can exactly change the output temperature from 100° Fahrenheit to 140° Fahrenheit with the capability to display temperatures in both Celsius and Fahrenheit
The NRCP98 series is for indoor installations and can be converted to an outdoor unit with the additional purchase of VCK-NRCP-1 kit
You can convert the heater to single vent with the purchase of the SV-CK-3 kit.
It has a 12 years warranty on the heat exchanger and 5 years on other parts irrespective of the recirculation pump.
To prevent damage to the unit through water or gas leak, a detection system is integrated into the unit's system.
A programmable recirculation timer which allows the customer to select the timing and running of the recirculation system or the unit's ability to learn the customer's habits and automatically run the pump for the customer
The system has a durable stainless steel heat exchanger
After system installation, there are 2-filters to be checked for debris with 1 is being on the inlet water line and 2 on the recirculation return line
It has the Energy Star ratings.
Noritz 10.1 GPM Sales, Installation, Repair, Maintenance and Replacement Service NJ
All Week HVAC and Noritz have been partners for a long time, this gives All Week the right to handle all Noritz products in New Jersey. Over the past year, we have been recommending and installing different types of Noritz systems that include furnaces and new units for residential and commercial properties within New Jersey.
We leave our clients satisfied, and in turn they give us positive reviews on the recommendations we offer. That and more is why we are the most reliable and trusted partners of Noritz systems.
Our staff are well trained to work on all Noritz systems, we make sure that they undergo specific training on all models and compatible equipment. It is important for us that our staff to stay up to date with the latest trends for new and existing equipment in the industry, this is why our customers are satisfied, in turn improving the trust they have for us.
Our store has numerous Noritz equipment available at all times, whether it is the new units, furnaces, coil pieces, or the split units and many more.
Recommended Resources