---
Home Plumbing Systems Severe Cold Weather Effect Prevention Tips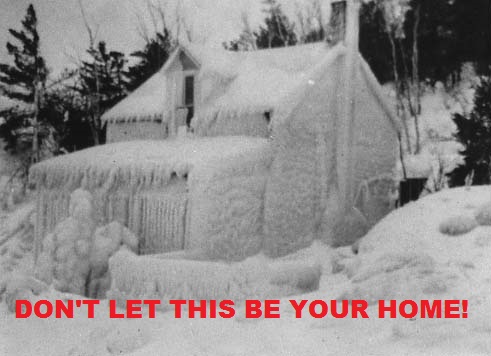 Take Winter Unawares Now Before It Does To You
Several regions have enjoyed some not-so-cold winter in New Jersey but the trend may not continue that way so this is the time for people to prepare for a harsh winter. It is a rule of the thumb to prepare and be ready for a severe winter.
While preparing for winter, what should be of utmost importance to you is your safety and health of and this of your family. One of the important aspects of being prepared is to take preventive measures against frozen pipes. If your pipes get frozen, no water will flow through them again and they might burst out of pressure. This will cost you major repairs.
The best step to take is to insulate all the pipes outside the areas covered by the heater in your premises. There is equipment designed specifically for pipes protection against freezing cold effects. There are stores that sell heated plumbing tape and foam sheath that can be used to protect your pipes.
Some parts of a home such as a basement or an attic receive a decent amount of heat but not enough to prevent freezing. So you can just wrap old newspapers like materials around the pipes there. The little heat will complement it.
Home owners with electric furnaces should always keep extra insulating materials handy. There may be power outage when the harsh condition of winter is prolonged. These extra insulating materials will become useful during such moments. Even the pipes interior is susceptible to freeze during severe cold.
Insulating your pipes is not the only way to prepare for winter. Enough worrying about frozen pipes and plumbing systems, and let's think a little more about yourself and family safety, in a case of snow storms and other harsh cold weather conditions.
Here are some tips that are worth following to keep safe and survive such conditions:
Your vehicle has to be in topmost condition and you should also ensure that your fuel tank is always full before the worst part of winter strikes. In other words, you should always top up your fuel on your way back home every day. This is the only way to retain your full tank
All your cell phones and other communication devices have to be fully charged too. You might want to purchase a few car chargers too. If you can also get some power banks for mobile phones. They will be helpful too. You should get them fully charged.
You can also prepare emergency shelters where you can take your family should the condition at home turns risky. You should also prepare a safe short path to those shelters.
It is also important to prepare family communications plan through which you and every member of your family can get in touch should a snow storm strike suddenly.
You should also listen to information on the situation of things. This implies that you should get a battery powered radio. You can use the radio on your smartphone but it is not advisable because this will risk killing your phone's battery when you actually need it most.
You should also prepare an emergency kit with all the items listed below and several others
Canned and non-perishable food and fresh water that will last for 72 hours
Flashlight
Battery powered radio with spare batteries
Sidewalk salt
Snow shovel
Winter hats, coats, gloves and scarves
Blankets
First aid kit
Prescription medications
Cash Supplies for your pets and baby
Back to plumbing best preventive practices, last but not least; think about inspecting your plumbing system by a local professional plumber ahead of the winter and make necessary maintenance or repairs, just to be on the safe side. Better be safe then sorry!