Buy an Ao Smith GPVT-50L Water Heater From All Week And Get It Installed At Best Rates Anywhere In New Jersey Today!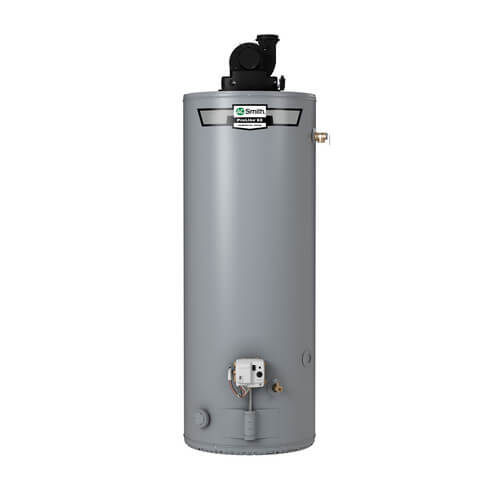 The ProLine® XE Power Vent gas water heater has two selling points. First, it is efficient, and second, it is very easy to install.
It comes with a 50-gallon tank and a 50,000 BTU gas burner. Designed with a GPVT-50L Power Vent that heats 83 gallons of water within an hour and has a recovery rate of 53 gallons per hour. Its Energy Factor is 0.65 but it is not ENERGY STAR® qualified.
You'll be covered with a 6-year limited warranty. Be rest assured that it meets Low NOx emission requirements.
Features:
Energy Star Qualified
All models meet the September 2010 Energy Star® EF requirement and may also qualify for local utility and rebate programs
Dynaclean II dip tube optimizes inlet water pressure to minimize cold water regions within the tank. The self-cleaning action also reduces sediment accumulation on the bottom of the tank.
Hot-surface ignitor is more robust and reliable than standing pilot, including reducing energy consumption.
Built-in heat traps on the water inlet and outlet reduce the amount of heat lost through piping.
2-inch, thick, "Environmentally-Friendly" foam insulation reduces the amount of heat loss and contributes to overall energy efficiency
Versatile Power Vent Design
All models feature an exclusive 3-position rotatable blower outlet which adds flexibility
Combined horizontal and vertical vent runs up to 180 equivalent feet with 4″ diameter venting (ABS, PVC, CPVC and polypropylene)
All models are equipped with a protected sensor that detects the presence of flammable vapors and automatically disables the burner to prevent ignition
Air intake snorkel elevates the inlet location of combustion air to prevent flammable vapors from entering the sealed combustion chamber
Reduced NOx emissions comply with air quality management district regulations
User-Friendly
State-of-the-art electronic gas control provides more precise temperature control
LED control light displays operation status and diagnostics information
Factory-installed T&P and a durable, tamper-resistant brass drain valve are positioned for service accessibility
Available in Natural Gas and Propane
6 year limited tank and parts warranty
Product Resources: (Downloads)
AO Smith GPVT-50L Sales, Installation, Repair, Maintenance and Replacement Service NJ
We at All Week are proud partners and dealers of A.O Smith® products within New Jersey. Over the past years, recommended and successfully installed different A.O Smith appliances including furnaces and ac's, for residential and commercial buildings all over NJ.
Our clients are satisfied with the quality of service that we offer, this and the reliability of A.O Smith products has made them loyal customers. That's why we strive to continue our tradition and the solid partnership with A.O Smith.
All our technicians are expert and trained to handle all A.O Smith products and how to handle all models and equipment. We make sure they stay up to date with any new trend that comes with existing equipment or new equipment in the market.
Our store is stocked all the time with a lot of A.O Smith equipment including; AC units, furnaces, coils, split units and more.
Are You Looking To Install an AO Smith GPVT-50L Water Heater For You NJ Home or Business?
We have professional technicians who are always there for you to help you successfully install, repair, and maintain your older "Model" A.O Smith boiler at your home and business. Reach out to us for more information and assistance.
Recommended Resources in GPVT-50L