Buy an Ao Smith GPVH-40 Water Heater From All Week And Get It Installed At Best Rates Anywhere In New Jersey Today!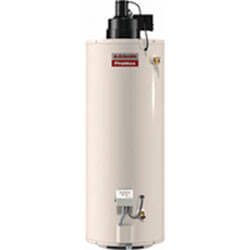 ProMax water heaters are designed to function efficiently, and while consuming less energy.
ProMax water heaters are integrated with the A. Smith's patented C3 Technology® design. It also covers four U.S patents and features a sealed combustion chamber with air intake screen, an inbuilt sealed combustion chamber with air intake screen and a fireproof Cordierite flame arrestor.
The ProMax Power-Vent water heaters have a flammable vapor sensor installed which helps to switch off the blower automatically once flammable vapors are detected. Embedded in it is an Intelli-Vent gas control and hot surface ignitor that regulates it.
Features:
Natural Gas
Equipped with C3 Technology®
Versatile Power Vent design
Hot surface ignition
0.65 energy factor
CSA certified and ASME rated T&P relief valve
Vents with PVC, CPVC, and ABS
Coregard aluminum anode
FVIR compliant
Extra long Dynaclean diffuser dip tube
External heat trap nipples, pipe installation, and T&P insulation
Intelli-Vent Gas control
Green Choice® gas burner
Permaglas® glass tank coating
Meets Phase II of the ANSI Z21.10.1 standards for flammable vapor ignition resistance dealing with the accidental or unintended ignition of flammable vapors, such as those emitted by gasoline
6-year limited tank & parts manufacturer warranty
Product Resources: (Downloads)
AO Smith GPVH-40 Sales, Installation, Repair, Maintenance and Replacement Service NJ
All Week HVAC is a proud partner of A.O Smith®. We are also an authorized dealer of their products within New Jersey. Over the past years, we have recommended and installed numerous A.O Smith appliances (at 99% success rate). This includes furnaces and ac's, for residential and commercial all over NJ.
We try to make sure all our clients are satisfied with the service that we offer. This is probably why they remain loyal to the A.O Smith brand including the reliability of their products. We are proud of these results, and we continue to keep our tradition and the solid partnership with A.O Smith.
We ensure that our staff are well trained in handling all A.O Smith products, we also make sure that they can handle all models and equipment. We keep them up to date with any new trend that comes with existing equipment or newer equipment.
At all times, our warehouse is filled with all variety of A.O Smith equipment including; AC units, furnaces, coils, split units and more.
Are You Looking To Install an AO Smith GPVH-40 Water Heater For You NJ Home or Business?
We have professional technicians who are always available to help you install, repair, and maintain your older "Model" A.O Smith boiler at your home or business without any issue. Contact us for more information on our services and assistance.
Recommended Resources in GPVH-40